Barrow Island Holoplatys Holoplatys FP-11668

Discoverer: V.W. Framenau (2022)
Fauna Portal species: 11668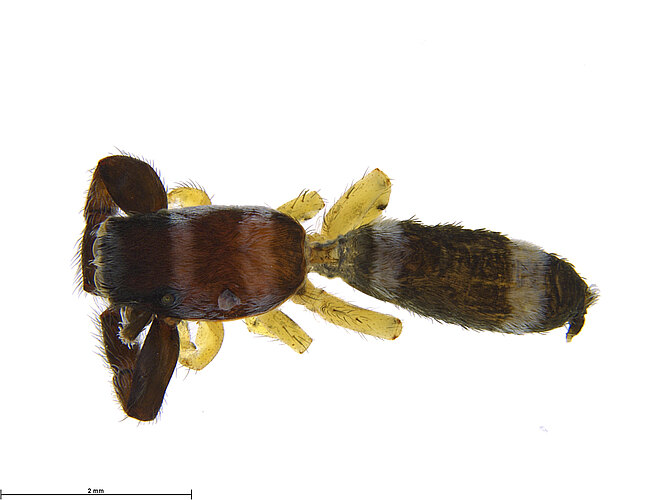 Holoplatys FP-11668 male, dorsal (HBI N27776-3; Barrow Island, Western Australia)
Image: V.W. Framenau (2022)
Fauna Portal Image No. 3800
Diagnosis
The inclusion of this species into Holoplatys is tentative as the embolus originates prolaterally on the pedipalp, whereas Żabka's (1991) review shows them originating retrolaterally.
There are at least four species of Holoplatys on Barrow Island, of which Holoplatys FP-11668 males differ by the leg colouration; in contrast to Holoplatys FP-295, which has all legs yellow, the first pair is black in Holoplatys FP-11668. It is also the only species on Barrow Island with transverse light bands on carapace and abdomen.
Fauna Portal Reference
1 ♂
|
Harry Butler Institute
|
N27776-3
|
21 January 2022
|
Australia
|
Western Australia
|
Barrow Island
|
window trap
Fauna Portal Records
The map shows all records that have been verified as part of the Fauna Portal project and may not represent the true distribution of a species. Specifically, for described species, check the link to the Atlas of Living Australia on this page for potential wider distributions. Fauna Portal Reference specimens and Linnean types are shown in red. If you identified a specimen that exceeds the distribution of an undescribed species as illustrated here, please contact the Fauna Portal team who can assist with the lodgement of the specimen in a public institution and display on the map.
Similar Species
Publications
Żabka M (1991): Salticidae (Arachnida: Araneae) of Oriental, Australian and Pacific regions, V. Genus Holoplatys Simon, 1885. Records of the Australian Museum. 43: 171 - 240
Volker Framenau, 24 October 2022